History will have to record that the greatest tragedy of this period of social transition was not the strident clamor of the bad people, but the appalling silence of the good people.
Martin Luther King, Jr.
Tonight is the 10th night in a row of the vicious attack on the Gaza strip by the Israeli state. Yesterday saw the horrific act of 4 little boys (aged 9-11) being blown up on the Gaza beach, as if followed by shells, the scene witnessed by western media.
This evenings reports said that there were over 230 deaths, mostly civilians, over the last few days. Just over an hour ago the ground assault started, so the casualty rate is expected to sharply rise. Just now, news comes in that the al-Wafa hospital has been attacked, here is how a witness tells it:
It started just before nine, they started it and it continued every other minute, firing at the hospital. They started on the fourth floor, continued to the third, then from the back of the hospital, then to the side, then to the front, then they cut the electricity, we have fuel everywhere, I don't know the extent of the damage but it reached a point where my nurses were unable to function, unable to stand, unable to help the patients. So they left the hospital, and right now we are in the process of evacuating my patients to help with them and the handicapped.
When will this senseless killing end? How will it end? Will more people, normal people, stand up and say no, this is not OK? What can we do to stop the slaughter?
Little acts of solidarity are happening, people taking stands, taking to the streets, publicly declaring their solidarity with the Palestinian people. But, it is still just the few. Until the vast majority of us become incensed at the slaughter and the injustice, and with that, stand together to force change… the killing will go on.
Here in Brazil, there does not yet seem to be many acts of solidarity. In 2010 Brazil Recognized the State of Palestine, with Pre-1967 Borders, perhaps social movements can build on this? And, just to make clear, this is not an anti Jewish, or anti-semite thing, in case some see it as that. I have Jewish friends and I support all Jews, Muslims, Christians, atheists etc who are against the violence and illegal occupation that is happening in Palestine, including Jewish Voice for Peace, Jewish Boat to Gaza, Dr Norman Finkelstein, Noam Chomsky, Dave Zirin…
This post is to communicate how others around the world are standing up for those in Gaza right now.
Enclosed in that tiny strip of land, "The Gaza Strip", the worlds largest open air prison, as the bombs rain down and now as the Israeli soldiers move through the streets under cover of darkness, there is nowhere to hide or run to. Imagine the sheer sense of hell that it must feel like. Horrifying. End it now.
Allow the 2 state solution, upon 1967 borders. Allow peace, justice and dignity to exist. The majority of the world wants it, it is only the few that stand in its way, Israel included. It is time to end the carnage.
FREEDOM FOR GAZA, FREEDOM FOR PALESTINE
EU must sanction Israel over its refusal to obey international law and must recognize the State of Palestine
Map of protests (STILL GROWING) around the world against the Israeli attacks on Gaza #FreeGaza #GazaUnderAttack
Barcelona, Spain: 10,000 people today in Barcelona calling for an end to the bombing of Gaza and Boycott of Israel.
Resistance and Solidarity: Upcoming demonstrations this weekend in solidarity with the people of Gaza
London: National Demonstration for Gaza. Free Palestine!
Dublin:  March & Rally – Stop Israel's slaughter in Gaza!
Brazil:
Curitiba, PR: Solidariedade à Gaza-Palestina. Fim das Agressões (Domingo 9h)
Foz do Iguaçu, PR: Gaza Resiste! Palestina Livre! (Sabado 9h)
Londrino, PR: Ato de Solidariedade com a Palestina e contra o Genocídio em GAZA (Sabado 16h)
Belém: Ato público em Solidariedade ao povo palestino! Chega de bombardeio à Faixa de Gaza! (July 22, 8h)
Brazilian Gaza and Palestine Support Groups: Movimento Solidariedade com a Palestina | Frente Brasileira de Apoio à Palestina-Gaza
EU Parliament: Sinn Féin's four MEPs – with other members of the GUE/NGL group – stood yesterday in solidarity with the people of Gaza in the EU Parliament in Strasbourg. Martina Anderson, MEP for the Six Counties, said:
"Gaza is once again at crisis point, and millions worldwide are protesting in solidarity with the people of Gaza amid this appalling carnage.

Algeria: After the great performance in the World Cup 2014, the team are donating $9m World Cup prize money to people of Gaza. Speaking at a reception in Algiers where the team returned to a hero's welcome, they said: "They need it more than us."

UK: Thousands protest at Israeli embassy
Brazil: A Vigília por Gaza em SP Terminou com a Polícia Dando Tiros Para o Alto (Sao Paulo demo ends with police firing into the air)
Brazil Senate: Communist Party of Brazil protest against Israeli attacks in the Gaza strip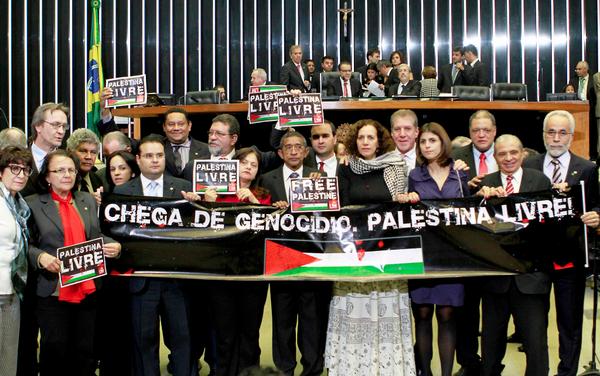 Porto Alegre, Brazil: Demonstration in the streets
Belfast, Ireland: A new mural going up on the Falls road depicting laughing IDF soldiers and terrorised Palestinian children, with more than a glance at that famous napalm picture of Vietnamese children.
Belfast, Ireland: Solidarity from the Falls rd to the people of Palestine!
Armach, Ireland: White line picket taking place tonight in Armagh City. #FreePalestine pic.twitter.com/hs4LNY8vUr
Derry, Ireland: Free Derry Wall Tonight (8th July)
Derry, Ireland: Free Derry corner in solidarity with the Palestinian people suffering under the jackboot of the apartheid Israeli state.
Ireland: Sinn Féin leader Gerry Adams TD asked members of the Dáil to stand in silence to show their solidarity with the people of Gaza. Deputies from across the Parliament took part in the moment of silence during which Sinn Féin TDs held-up Palestinian flags
USA: Navajos (indigenous native American community) supporting Palestine at Tribal Council
UK: #GazaUnderAttack: UK, MPs accuse #Israel of war crimes, disproportionate violence, ruining peace negotiations
Background on Gaza and the conflict:
While the world watched Germany thrash Brazil, Israel started it's demolition of Gaza.. #GazaUnderAttack #PrayForGaza
– A fine article from Seamus Milne in the Guardian, outlining why the situation today is so unfair and in need of your and my attention and action…
– The idea that Israel is defending itself from unprovoked attacks is absurd. Occupied people have the right to resist
For the third time in five years, the world's fourth largest military power has launched a full-scale armed onslaught on one of its most deprived and overcrowded territories. Since Israel's bombardment of the Gaza Strip began, just over a week ago, more than 200 Palestinians have been killed. Nearly 80% of the dead are civilians, over 20% of them children.

Around 1,400 have been wounded and 1,255 Palestinian homes destroyed. So far, Palestinian fire has killed one Israeli on the other side of the barrier that makes blockaded Gaza the world's largest open-air prison.
– A respected author on these issues and their relationship to energy and resource depletions: Nafeez Ahmed (on twitter at @NafeezAhmed )
IDF's Gaza assault is to control Palestinian gas, avert Israeli energy crisis
Israel's defence minister has confirmed that military plans to 'uproot Hamas' are about dominating Gaza's gas reserves
This is part of a wider strategy of:
"…. separating the Palestinians from their land and natural resources in order to exploit them, and, as a consequence, blocking Palestinian economic development. Despite all formal agreements to the contrary, Israel continues to manage all the natural resources nominally under the jurisdiction of the PA, from land and water to maritime and hydrocarbon resources."
Brazil infos:
– A solidariedade Palestina no Brasil (NINJA media)
– A Vigília por Gaza em SP Terminou com a Polícia Dando Tiros Para o Alto (Sao Paulo Gaza vigil ends with police shooting into the air)
– Brasil, Rússia, China, Índia e África do Sul condenam Israel por ataques à Palestina (BRICS condemn Israel for attacks)
– Para quem não conhece a historia ou quer saber mais sobre #Gaza: Occupation 101
– A historia sionista (The Zionist Story) completo e com legendas corrigidas

 – John Pilger – A Palestina continua sendo a questão (Palestine Is Still The Issue)

– Belo documentário sobre a história do território palestino, o Sionismo e o massacre promovido por Israel desde 1948… Vale a pena conferir! (via Ato de Solidariedade com a Palestina e contra o Genocídio em GAZA)
Noam Chomsky's views on the crisis and solutions:
Noam Chomsky video:
BOYCOTT ISRAEL: Support BDS : Boycott, Divestment and Sanctions (BDS) Movement
@
SharonsRedShoes
: Went shopping earlier, made real effort to check where produce came from….
#
BoycottIsrael
Bought none of this crap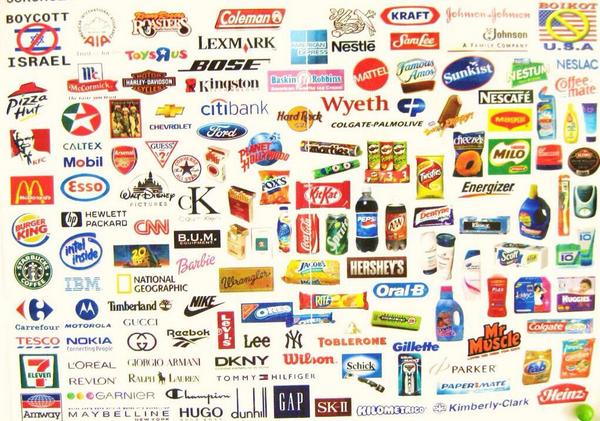 9 Graphics to Help You Understand What Life Is Really Like in Gaza
A quick summary of the conflict. This is no war, this is an Israeli genocide. Keep in mind this is children only.
Palesstinian & Israeli deaths, timeline of violence since sep 2000
DAM: WHO'S THE TERRORIST #Palestine #HipHop. #Gaza
Related DN! post: Palestinian Rap Group DAM Use Hip-Hop to Convey the Frustrations, Hopes of a Dispossessed People
Dr Norman G. Finkelstein Replies to a Jewish Woman (Arabic Subs)
Clip from full documentary: American Radical – The Trials of Norman Finkelstein