'Sinn Féin hasn't had this strength since 1918' – Gerry Adams
Interesting times in Ireland again. Time to truly leave "Civil war politics" in the South and move on?
On Friday it was the local and European elections in Ireland, Sinn Féin have scored massively in local elections, especially in the cities. They are set to be the largest party in Belfast, Dublin, Derry, Cork city councils. The mixed bag of independents and small parties also scored hugely. Sinn Fein are an island wide party, not the only one, as People Before Profit also are island wide and took seats.
The established political system has been given a massive shake up, with ex TD Joe Higgins on RTE radio calling it nothing short of a "democratic revolution for change". Present Irish Fine Gael minister, Leo Varadkar went as far as saying he could see Sinn Féin leading the next government, something considered impossible only five years ago. No one was expecting such a sea change, who knows what it might lead to further down the line?
Going back to 1918, we remember what huge changes came from little sparks. As it is not the first time that there has been a huge surge in support for Sinn Fein. Soon after the failed rebellion of 1916, after executions and imprisonment of many Irish rebels, the party grew massively all over the island. They formed their own illegal government and fought a war for Irish freedom, the results of which were the half win of a partitioned island that led to a bloody civil war and the party's demise. But the world took note; a small island nation stood up to the greatest empire the world had ever seen, the took them on and they forced change. Sinn Fein have done it before, might this weekend be the first step in another chapter in that story?
c
VIDEO: "Sinn Fein hasn't had this strength since 1918′ – Gerry Adams.

Another positive aspect is the continued rise of women, immigrant, non-white, LGBT people getting elected, showing that the political make up is better reflecting the true diversiy of the small country (island only has about 5 million). Sad note is how Ireland is STILL the only EU country that does not allow its expats vote, if they did I imagine "Civil war politics" problem would have finished long ago. Another worrying thing is the rise of racism in the county, with Turkish born Muslim candidate Memet Uludag having firstly bacon attached to his election posters and then images of pigs heads stuck to his posters, a common form of attack by mainland European Ultra right / neo-fascists / nazis. The last point of concern for those against the growth of hate / racism / fascism in Europe is the formation in Ireland of NIP, an Irish verion of UKIP. Although small now, no doubt they will grow in Ireland as racism keeps growing, as similar groups have grown in the continent; Hungary, Greece, Denmark, France, Germany, Austria, UK, Sweden and now Ukraine.
Not that the vote in itself will change things, grassroots organized community action makes real change. The 30 years of the war in the north, "The Troubles" has taught many lessons to SF. It will be interesting to see the new chapter in this story unfold, the story of Irish people, the story of a confident people on the island sorting the mess they are in.
Ireland abú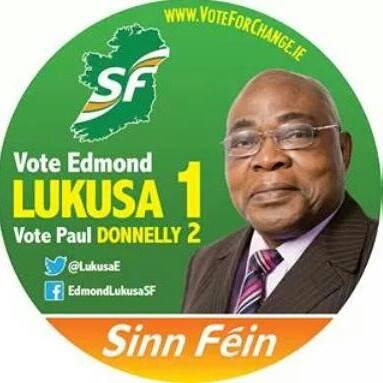 NEWS AND SNIPPETS FROM THE 32 COUNTIES:
– First Sinn Fein candidate in county Limerick in nearly 100 years. Seighin O'Ceallaigh (22) Sinn Féin has seen five of its six candidates elected.
SIMILIAR to the trends across the country Sinn Féin and Independents were the big winners in Laois.
– Sinn Fein now have 3 seats in next Mayo
– Mayor of Belfast Mairtin O Muilleoir tops the poll in Balmoral Ward in Belfast and is elected on 1st count
– All change in Leitrim as Independents and Sinn Féin surge
– Sinn Féin tops first preference majority poll in Fermanagh & Omagh Council with 40%
– RTE reporting that Sinn Fein are on course to be the biggest party on Dublin City Council
– Dublin: The final result in Cabra-Finglas – Perry Ind, Connaghan SF, Murphy SF, McGrattan SF, Carr Lab, Costello FF, Keegan Ind all elected
– Three Independents and three SF elected in Meath
– SF candidate Melissa O'Neill takes a seat in Kilkenny
– Cork: Sinn Fein's Rachel McCarthy secured a decisive victory in Bandon-Kinsale topping the poll with 2,344 first preference votes
– Nine Cllrs (with a possible 10th in Ballymun) for PBPA in the greater Dublin area
– Eimear Ferguson (SF) elected on 1st count in Laytown-Bettystown
– In Tallaght South Sinn Féin took a massive 51.3% of the total first preference vote. Closest party to them was Labour on 12%
– Sinn Féin likely to claim first seats on Carlow County Council
– Independent councillor Mannix Flynn elected on the 4th count in Pembroke South Dock with 1569 votes.
– It's fitting that as a 32 county alternative PBPA should have our first Cllr of #le14 elected in Belfast. Well done Gerry Carroll.
– Sinn Féin claim 41.7 per cent of Monaghan Local Election vote
– Clare's first female councillor of 2014, Ann Norton (IND) says she sees no obstacle for female candidates getting elected #clarele14
– Another one of our own, the very hardworking and fantastic LGBT campaigner Janice Boylan elected to Dublin City for Sinn Féin
TWEETS, LINKS ETC
Related blog posts: Martin McGuinness hoping to be Irish president for 2016 + President Michael D Higgins and the "Real Irish Republic" + Provos, Loyalists and Brits (BBC 90′s documentary series)
Meanwhile, back in 1918..
A massive step for feminsim, a truer, more equal form of democracy…